M:\ANALYZING:
VISORCORTEX
Every Variant in the Midnight Society has a unique personality represented by their VisorCortex - each with attributes that determine various levels of rarity. Variants are outfitted with unique armor, Call Signs, weapons, backdrops, and more. You can step into the night knowing you are truly unmatched.

Night has fallen on The City. Your visor sits, dark and waiting on the table. It's time. You hold your VisorCortex up to the port - instantly it is drawn to the visor with a magnetic force and crackle of electric power. The visor blinks to life as you slip it on and once again you feel like your true self.
M:\ANALyZING:
benefits
Minting a Founders Pass doesn't get you any in game advantage, but it gets you a profile picture that represents you across Midnight Society and beyond. Certain features determine whether each Variant avatar is rare or super rare, such as armor, weapons, backgrounds, and more.

Every Variant avatar features a unique Call Sign for the user, displayed in the Midnight Society's Codex Operandi cipher. In addition to being a thing of beauty, each minted avatar includes a distinctive VisorCortex that determines which design appears on the Variant's helmet.

Once minted, Variant avatars can be traded and collected on open marketplaces. As future Access Passes drop, current Variants get first dibs on minting new avatar features.
founders
pass benefits
One-of-a-kind Midnight Society call sign and VisorCortex that you own.
Early access to game builds and weapons tests.
Voting rights on game features.
Exclusive access to studio events.
First dibs on merchandise and future VisorCortex drops.
Early access to Industry Guilds via The Eyes.
ALL SERIES 0 PATCH CLAIMED
FOUNDERS ACCESS PASS period closed
Create an account for future Series releases.
10,000 applicants will be granted access to purchase a Founders Pass based on gaming community involvement.
Purchase price will be $50 USD plus gas fees.
Frequently Asked Questions
We Got You Covered
What is a Founders Pass?
There will only ever be 10,000. These Founders Access holders represent the most dedicated of our Day Zero community.

Founders Access Pass holders gain Early Access builds to playtest the game, early access to Industry Guilds when they open, voting rights in dev round tables, Invite to in-person community events, exclusive merch drops with Founder's only designs, and finally a one-of-a-kind VisorCortex design as part of your unique Variant.
What is 'Early Access to Industry Guilds'?
Founders Access Pass holders get early access and first right of refusal in becoming The Eyes (Industry Guilds).

We are in the process of designing a meta economy layer for Midnight Society that will form the core of Industry Pass Holders. Founders will have a say in how it evolves. Industry Pass holders, also known as The Eyes, will form guilds that run all the in-universe manufacturing of weapons, mercenaries, and cosmetics used by Claws in the Midnight Society.
How many applications will be approved for Founders Access?
Only 10,000 Founders Access passes will be approved. Approval is based on a detailed scoring system which helps us identify our most dedicated, long-term community members who are active members of the gaming community in various ways (as a player, as an athlete, as a developer, and/or as a content creator).
Will I get a PFP if I get approved for a Founders Pass?
Yes! Founders Access pass holders unlock an exclusive Variant design which is your unique identity within the Midnight Society. It is a procedurally generated PFP built from a series of attributes which each have their own rarity. Users will be able to filter and compare their Variant PFP with other Founder Access pass holders.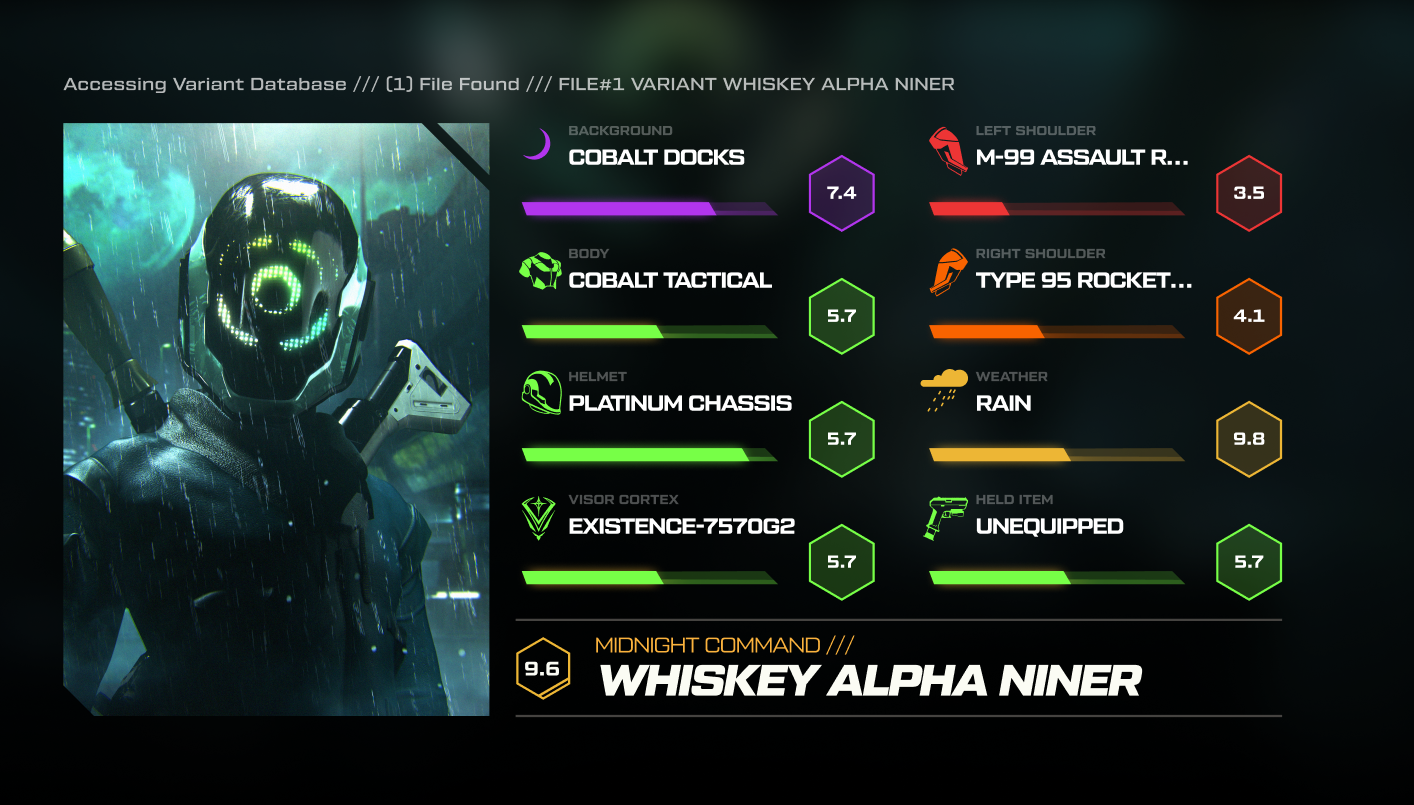 How will applications be Approved?
Applications will be reviewed by Midnight Society with a focus on identifying the Claws in our community with a vision for how they'd participate as a Founders Pass holder.
Applicants will be judged on a number of criteria including but not limited to;
When you joined the Midnight Society community
How active you've been in the community
How active of a gamer or creator or developer you are in general
Your insight into how Variants should participate in the Midnight Society
During the approval process for applications, priority will be given to Active Day Zero members (those of you who dropped into the Midnight Society on Dec 14th).
How do you obtain an Founders Pass?
If your application is approved, you will be notified via the email on your application.

You have 48 hours to mint your Founders Access pass.
Follow the link provided in your approval email to purchase your Founders Access pass via credit card or via approved crypto. The Founders Access pass will retail for $50 or 0.018ETH and only available to the 10,000 approved applicants.
What happens if my application isn't approved?
Variants who own Founders Access may trade their collection in the open marketplace (Opensea, Rarible, etc) and may be purchased by anyone.

Otherwise, you will need to wait for future collections.
Will Founders Passes be sold on open marketplaces?
Primary sales of Founders Passes will be on MidnightSociety.com. After the minting period has concluded, holders are free to trade them on secondary marketplaces like OpenSea and Rarible. Midnight Society NFTs will be based on the ERC-721 and ERC-1155 token standards.
Will my Founders Pass expire?
No. Access Passes grant lifetime benefits to holders. All assets and utilities granted to holders of Access Passes, including the Founders Access will remain in control of the holder unless the token is traded.
Can I buy more than one Founders Pass?
You can only purchase one Founders Pass.
Where will I be able to use my perks?
Access Pass benefits are accessible on various platforms, on the MidnightSociety.com website, and in real life.

Early Access game builds can be downloaded and played on any platform the game is released on. We are currently planning to support Xbox Series X, PlayStation 5, and PC platforms however Early Access Build release dates are dependent on platform certification processes.

Game development discussions, voting rights, and developer round tables will take place jointly on the MidnightSociety.com website and partnered streaming platforms.

Additional benefits, such as exclusive merch drops, in-person community events, and other real world tangible benefits will happen at major gaming conventions or other locations where meet ups occur.

Your digital assets, such as your Variant design can be used anywhere online, including platforms with verified PFP ownership such as Twitter.
Where can I interact with Other Founders Pass holders?
Access Pass holders get access to exclusive Variant-Only channels in the Midnight Society Discord. This is where all Variant specific communications will happen.Find your other Variants in our
discord channel
!
Can I create and share content around the game builds and polls?
Yes. Not only do we allow it, we believe one of the key roles of Variants is to share development progress with the larger Claw community. We embrace an open development process, Variants are free to create original content or streams of their Early Access builds. Our founders (Dr Disrespect, Fouzerotwo, Deez) and development team will also be participating in streams and playtests alongside the community.
Can I commercialize my Variant design?
Your unique Variant design is free to use for personal use.

All Midnight Society characters and Variant designs are intellectual property owned by Midnight Society - as such, Access Pass holders cannot sell or commercialize Midnight Society characters or designs in any way.
How do you become a Variant?
Submit an application on MidnightSociety.com. When you create an account you will be asked to optionally connect your social media accounts, verify gamertags, and submit a Variant survey that asks your thoughts on how Variants should interact with the Midnight Society and development of our games.

Only 10,000 applications will be approved based on their experience, insight, and desire to be a long-term active member of the Midnight Society. All approved applicants are invited to purchase a Founders Access pass for $50.
Are NFTs bad for the environment?
We are specifically using infrastructure (Polygon) that has a sliver of the environmental impact as traditional NFTs. The carbon impact of claiming Founders Access is equivalent to sending ~2.5 emails.
Can I verify I own a Variant design?
Rest assured that only registered Founders Pass holders will gain benefits. Variants will be verified on our Discord and Midnight Society channels. Currently several platforms, such as Twitter Blue subscribers can link a verified wallet to their account to display owned NFTs.
When can I start using my Founders Access benefits?
Immediately! You'll instantly be able to mint your unique Variant design and compare your attributes and rarity with the other Founders. You'll also gain immediate access to the Variant-Only discord channels as long as your account is linked.

In-person community events and Founder exclusive merch drops are currently in development and the drop dates will be shared via your profile on MidnightSociety.com and the Variant-Only discord channels. We are working towards the release of the very first Early Access Build, which will show up in your Midnight Society profile for download upon completion. During the development of this first build, the initial Dev Round Tables will begin appearing in your profile within the first weeks of Founders Access release.
How will I be notified of new votes, game build & events?
New Variant-exclusive intel will drop into your MidnightSociety.com profile and will be cross promoted in the Variant-Only discord channels.
How much will my Founders Access pass cost?
$50 USD plus gas fees if paying with a credit / debit card or current market rate for your chosen crypto currency.
How long will the application process take?
You have one week to submit an application. Three weeks after submitting an application, approvals will be sent.
What information will I need to provide on the application?
Email is the only required information. However, you may optionally connect your social media accounts, verify your gamertags, and answer a series of questions focused on how you'd like to contribute to the community. Every answer or additional piece of information provided allows us to more properly identify preferred applicants.
Are you developing a 'blockchain game'?
We have a very specific approach which we breakdown
here.